This is day 22 of 30-day blog challenge. Read day 21: "Why I love HootSuite"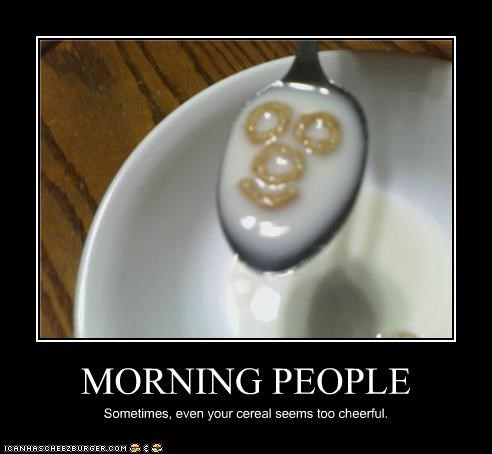 I've been thinking more and more that I'm a morning person, but I'm by no means a cheerful person in the morning. In fact, I've asked my husband not to speak to me in the mornings before I've had coffee. I just feel like when I get up early enough to wake up slowly, exercise and breathe fresh air, I feel better. I am more productive.
My recent thoughts started a few weeks ago, when I read an article about "What the Most Successful People Do Before Breakfast". Now, I am not saying I get up early every morning or that I even exercise as often as I should, but when I do get up before 6 a.m., I feel like I have more energy.
Some studies suggest that night owls have darker tendencies toward narcissism an psychopathy, while morning people are generally regarded as more creative, light-hearted or happy. I don't know about all this.
Also, I tend to think much of my early life impacted my–dare I say–preference for mornings. I joined the U.S. Army Reserves at age 21, which became my first introduction to both regular exercise and discipline. I grumbled about getting up at being outside ready to run two miles at 4:50 a.m., but I liked it. My secret love of mornings extended to a decision to work in a bakery during college. I had to be there by 5:30 or 6 a.m. Some ungodly hour. But, my shift was done in time to take am afternoon class or have the rest of the day off!
Speaking of classes, since my first afternoon college class I've decided to purposefully take the earliest classes offered. I like getting done with my day before everyone else gets going. Even now, I typically leave campus by the time it gets crowded. I take my most heavy class loads during the summer when others aren't even enrolled.
See, my love of mornings actually stems from a dislike of groups. I never clicked with night clubs nor with socializing in groups. I guess in many ways I'm uncool. But, there it is. I feel better in the mornings and I get sleepy by midday. Taking an afternoon nap around 1 p.m. and then working until about 8 p.m. is my ideal schedule.
What traits do you associate with morning and night people? Is there really such a thing?