Day 8 of 30-day blog challenge. Read day 7 post: "10 ways to improve social media marketing overnight"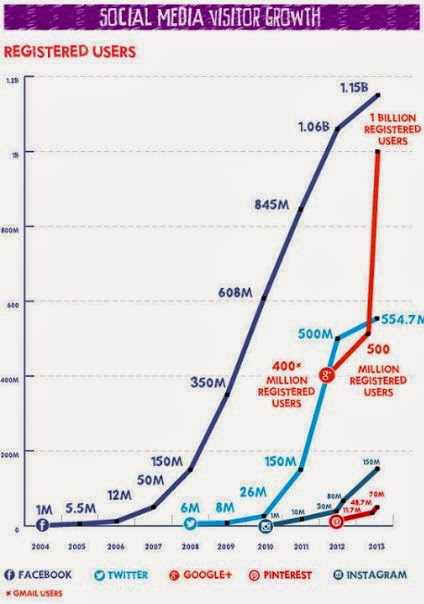 First off, if the infographic above bothers you because Pinterest and Instagram aren't in order along the bottom, know that I didn't create this graphic.
Now, if the infographic bothers you because you thought you didn't need to worry about putting your business on Google Plus, I understand.
Since the evolution of Web 2.0 into a true two-way street, businesses and people have been trying to figure out how to act online and how best to engage. Marketers know that one-way, static web pages that block user comments only send feedback through the social media tunnels. And most businesses and individuals have accepted social media and joined Facebook at the very least.
The biggest reasons I have been encouraging engagement on Google Plus involve the fact that Google is largely becoming synonymous with the Internet itself. The largest and most often used search engine, Google has even become a verb, meaning to search the world wide web, in everyday language. Please don't forget also that Google now owns YouTube, which happens to be the second largest search engine.
If you are promoting your small business, your corporation or trying to share pictures of the babies with the world, Google is your friend. A friend with a wide circle of influence–like the popular clique in high school. Getting locked out of or pushed down in Google's search engine results means failure for your business. If you've been laughing at Google Plus as a social media wanna-be, now is the time to stop laughing and form a strategy for marketing via Google Plus as well as the business Pages and on YouTube.