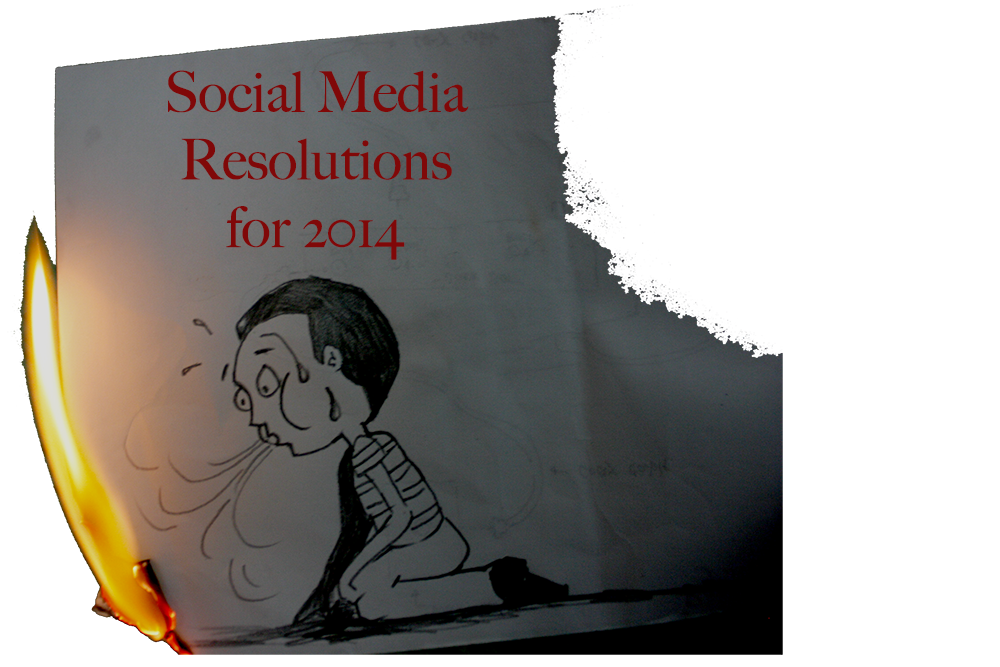 Let's go ahead and admit that social media has the tendency to lock us in a holding pattern, where  creativity burns out with each minute spent scrolling that we should be writing or creating our own art.  In thinking back on the things I've shared and why, I've come to these resolutions about how I will personally use social media in 2014:
I will share for the benefit of others
This means that when I post, I hope to post something of genuine value. Like the proverbial mother who always said, "If you don't have something worthwhile to say, shut up." Practicing this one overarching goal will help my personal sharing as well as my professional branding.
I've noticed the types of posts that get attention, and I resolve to post in moderation concerning everything from food to kids. I resolve not to boost my own ego with cute pics of the kids, but to post when an update is important for family to stay involved.
I will encourage positivity
As a writer and a social media marketer, I understand how tricky standing out can be – hopefully, my posts will not only benefit others but also inspire friends to pursue passions.  Were you once a would-be writer as I am? Let's stop sharing so many selfies and start scribbling in a journal again.
I will stop trying to be all things to all people
The days of "liking" everything from cute memes to every friend's Facebook Page must come to a end. Not that I don't genuinely support every band struggling for recognition and every endeavor by my artist associates, but I'm more interested in focusing my interests to what is most relevant for my life.  As I intend to brand myself as influential in key areas, I wouldn't want to confuse those viewing my public profiles.  (I'm not really into death metal, but I fully encourage you to pursue your passion).
More likely than not, I will sort through the Pages I've clicked "like" on as I've come to realize in growing my Twitter account that we are who we connect with.  As much as I've come to understand about the public forum of Facebook (and why I won't defriend anyone I've dealt with in a real way), I know that I am what I like–even if just for the benefit of those targeting me for advertising.
I will become all about branding
Not that I ever stopped thinking about how I present myself every time I hit "share," but I will think cautiously about representing myself as I wish to be seen: a mommy, a marketer, a journalist.  This persona allows me to be me. I care about all my associations and seek to encourage everyone's art, but from my perspective as a social media marketer and author.
Even as I intend to get back into writing more creative nonfiction, the bulk of my writing will be content for hire as well as blogs to share what I'm learning about promoting independent art, social media and branding business.  Every time I click "like" I intend to interact with thought-leaders and reconnect with friends.  More of my writing in 2014 will focus on how I am using Twitter versus Facebook and how these platforms can help others with their businesses.
If you are interested in more of my thoughts in 2014, subscribe to this blog or contact me to discuss how I can help you with your content marketing and managing social media.