This is day 21 of 20-day blog challenge. Read day 20: "Will home-schooling breed hermits?"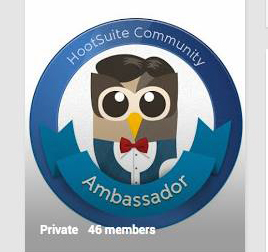 I had heard about HootSuite a long while before I got a chance to really dig into it. I knew HootSuite was a leader in social media, and I watched as people like John Petrucci published posts and tweets via HootSuite. I finally gained access not only to the Pro level of HootSuite's social media dashboard but also to HootSuite University, during a social media marketing course at Kennesaw State University (with instructor Tyra Burton who offers a very similar social media marketing certificate to anyone through the online continuing education college). I earned my social media certification via this program while enrolled in the marketing course.
What I love about HootSuite's social media dashboard
Though I have concerns that Facebook's EdgeRank suppresses scheduled posts via its own scheduling tool as well as tools like HootSuite, I enjoy using HootSuite as a tool for social media management simply because I do so much with multiple accounts.
Even if I weren't actively managing more than my own social media accounts, I would still benefit from HootSuite Pro access, which is only a few dollars a month, to schedule across multiple platforms including Twitter and Facebook.
HootSuite University is worth every penny
As with anything in life, and especially with education, one gets out what one puts in. This simple idea is why I enjoyed Burton's social media marketing course and why I really learned a ton from her. I started the course with enough knowledge and experience, but I hadn't used Twitter and I did not understand Pinterest. Learning how to leverage different platforms across social media as part of an integrated marketing strategy allowed me to connect the dots from what I was learning about traditional marketing and online activity. Consumer behavior isn't changing, but certainly the way in which we interact and engage each other is changing.
So, HootSuite University helped me to get certified. I learned, understood and applied the powerful tools in the HootSuite social media dashboard. But, learning about HootSuite itself wasn't the only think included. I also had a chance to watch hours and hours and hours of videos (I haven't watched them all). Again, getting what you put into something is the best way to reap its benefits.
Teaching others social media
I enjoy helping others and teaching people how to improve their lives and build better careers. As President of the Kennesaw State University chapter of Society of Professional Journalists, I applied and earned a $400 grant to teach journalist members the importance of social media and the ease of HootSuite.
My biggest advantage in earning the grant and in leading others to HootSuite was always extra access to HootSuite University. There is just so much great information above and beyond what it takes to get certified. Practicing and continuing to stay active in your industry is the only way to stay current so I proudly promote HootSuite as a social media management tool, but I also strongly encourage others to go through HootSuite University. The billing for the University portion is just added to the Pro level account access so you can sign up when you have time to watch the videos, and cancel when you get busy.
Happy Hooting! If you want to, apply to be a HootSuite Ambassador and find out more about the benefits and perks.