Day 12 of 30-day blog challenge. Read day 11: "LinkedIn Open Networkers: marketing mistake"
I'll consider today's blog one about "parenting" as I try to organize this blog by category. We in the South–Georgia to be exact–are expecting snow for the second time this winter. Many schools, including Kennesaw State University, where I attend college, are already closed. I published my thoughts on the first "Snowpocolypse" of the season in an issue of The Sentinel that hit stands with the previous week's issue because we were all stuck inside.


So, I'm over it. I'm over the weather warnings and winter advisories. I've calmly accepted that my guitar teacher husband will have to excuse his students. Again. Maybe the family can watch a documentary on NetFlix. Something that teaches us how to make shoes from cardboard or boil baby drool into pudding.
Why bread, milk and eggs in a storm?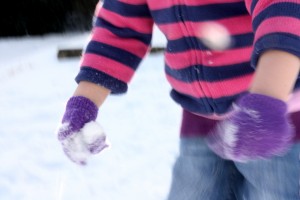 As I think about trying to just enjoy the day off and the time cooped up with the kids (they're more adorable in half-day bursts), I ponder over the fact–not joke–that people really rush out for bread, milk and eggs in preparation for a snowstorm. I've often wondered why, without putting much more thought into it. Why bread, milk and eggs in a storm?
Wouldn't it make more sense to stock up on non-perishables? Why stockpile the things that spoil quickly? I'm guessing it's emotionally-based. Seriously. We want French toast. We want hot cocoa made with whole milk. We don't want to believe that the storm will last longer than our perishable comfort foods.
My habit is for my husband or me to head to the grocery store every few days. Though we often fail, we try to eat fruits and veggies as the bulk of our diets. My husband is a vegetarian (that's a Native American word meaning "bad hunter"). So, I hit the store the other day. I realized last night that I forgot coffee. Posting it on Facebook as a joke, I planned to go to Kroger before work to get coffee and anything else I could think of needing over the next few days.
Surviving Southern Winter
I bought coffee as well as an extra loaf of bread. I decided I would make the family French toast with strawberries and syrup for Tuesday breakfast. You know, since neither I nor my husband would be hitting the gym. I'm glad I went early because by midday the Atlanta Journal-Constitution reported shots fired at a local Kroger. I seriously hope others can calm down and quietly accept this is an extreme, but rare, winter in the South.
As I left the house, I took the phone charger (and no one in my immediate family spent time stuck in traffic two weeks ago when the ice made Atlanta a laughing stock). I asked my husband to go ahead and buy an extra phone charger on eBay. We need one to leave in the car. Then I remembered that KSU offered a course called "Surviving a Zombie Apocalypse" that I laughed at. The most ironic aspect of the class is that it's offered Wednesday nights – so if campus closed Wednesday, Feb. 12, the class would miss two sessions. But I bet they have tons to discuss!

Emergency preparation isn't a joke. Having two small kids makes me nervous; I want to protect them. Especially when I heard about children stuck on school buses and friends whose kids were dropped off at places other than where they were supposed to be left. Terrifying. No matter who has or has not learned a lesson, I know winter weather in Georgia is no joke. Those in the northern states (like New Jersey, where I grew up), can't handle the heat and cancel school in the rare extreme summers because they don't have air-conditioning. Well, we don't have salt trucks nor enough snow plows. So, we'll just stay in and eat our French toast. Try not to get into a gun fight over it, though.