I've been published by:


Decaturish.com

Debt.com



Patch.com
While the vast majority of my work over the years has involved covering the arts and do-it-yourself aspects of the music business, I enjoy journalism–especially features–and make myself available to contribute community interest articles for my hometown Patch.com website. Read my interview with entrepreneur Angela Shipp on her Bluehealer Diary HERE.

Atlanta Music Guide Clips

Performer Magazine Clips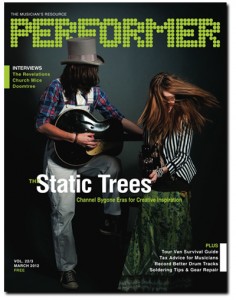 Cover story on The Static Trees in March 2012 issue. Click image to read online! I also wrote the July 2012 cover story on The Memorials
I've been writing for Performer Magazine since early 2008. I started writing mostly album reviews, and added live reviews, spotlights, DIY pieces and features to my resume. Currently, I focus my attention on feature writing, but occasionally contribute a live or record review. Click the image on the right to read my article, "The Comeback of the Cassette," from the December 2010 issue with Dax Riggs on the cover. Click HERE for my May 2011 article: "Soundproofing 101"
Feature on Romeo Spike (10/2010)
Click the image to read the .pdf
Feature on Sami.theGreat(01-2012)
Atlanta Music Guide
Please visit www.AtlantaMusicGuide.com to see the live reviews, album reviews, Q&A previews and news pieces I have contributed to the blog. My work has also appeared on the Ticket Alternative blog. Some artists I have covered since 2010 include: Beth Hart (with photos) Band of Horses David Cross Hole The Chemical Brothers Apocalyptica Stone Sour Queens of the Stone Age Smashing Pumpkins Alice In Chains Dead Confederate The Cars Green Day Dream Theater Megadeth Tori Amos Staind Furthur Festival A Perfect Circle Puscifer Tool
Tattoo Artist Magazine
KSU Talon
I started as copy editor for Talon fall term 2012 and was promoted to photo editor for the 2013-14 academic year. I also managed content for the www.ksutalon.com website. In 2014, I was elected editor-in-chief by the Student Media Board, which is made up of students and faculty. As editor-in-chief, I oversaw the budget, hiring, content and design of five issues betweem July 2014 and April 2015. The final issue is here:
KSU The Sentinel
Beginning spring term 2013 I started contributing to the Opinion section of KSU's student newspaper, The Sentinel. Click the image or text for my February 19, 2013, article "Waging War on Drugs or Our Future?" or click the text to read my February 26, 2013, article "Car Control Won't Work – Let's Automate Cars and Stop Paying Insurance." I wrote "Do Unpaid Internships Exploit College Students?" for the June 11, 2013, issue.I am now considered a Staff Writer as opposed to a Contributor for fall term 2013.
Sales Mastery Magazine